SALON - SEMINAIRE - FORMATION - CONFERENCE BTOB
ABBVIE HACKATHON
---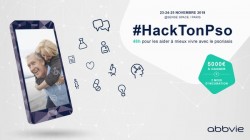 48 hours to help patients live better with Psoriasis.
Du vendredi 23 novembre 2018 au dimanche 25 novembre 2018
Sense Space, 11 Rue Biscornet, Paris, 75012 - Ile de France
On November 23, 24 and 25, do not miss #HackTonPso, the first-ever AbbVie hackathon that will challenge you to improve the lives of patients with severe psoriasis!
Psoriasis is a chronic, relapsing disease that can not be cured today, but its symptoms can be controlled. When treatment is stopped, there is a risk of relapse of the disease.
How can the patient continue to take his subcutaneous (injectable) treatment, even when the symptoms are no longer visible?
Three axes are to be exploited during these 48h:
How to facilitate the acceptance of the treatment?
How to generate motivation at the beginning of treatment?
How to ensure that this treatment is followed once the symptoms are gone?
Are you a start-up, developer, marketer, designer or idea holder? So this challenge is for you!
The key to this challenge: € 5,000 to share and the opportunity to develop your project for 2 months with AbbVie.
Time:
8:00 am to 7:00 pm
URL:
Website:
Lien
Conditions d'accès :
---
Tout public


Vous aimerez aussi les événements dans cette thématique :

© 2007 - 2019 Dataevent